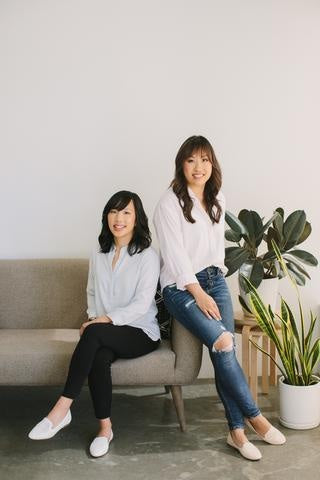 Based in Vancouver, BC, I'll Know It When I See It is a two-woman business, creating fun and Asian-inspired paper goods and gifts.
After meeting in design school, Cassie and Christine decided to create a business that would make space for their heritage while supporting Canadian businesses. Despite the challenges of being Chinese Canadian entrepreneurs when culturally Asian work is still a niche, they manage to speak to their audience in a very authentic and unique way.
What is your connection with your Chinese-Canadian heritage?
The beauty of being in a multicultural society is all the multi-faceted ways in which we connect to our culture. For Christine, it can be found in daily moments such as going out for dinner with family or buying freshly baked Chinese pastries. She often takes the opportunity to pass on stories and memories to her kids of her family's history here in Vancouver. For Cassie, it's speaking Cantonese when she can and eating the comfort Chinese food that she grew up with. We are both fortunate to have the unique experience of growing up as Canadian born Chinese children of immigrants – it truly made for a rich life experience.

What is your connection with Chinatown?
Christine's great grandparents made Chinatown their home after immigrating to Canada back in 1913. Since then, Chinatown has been the centre of life for her family - with grandparents working various labour jobs to make a living and afford the best opportunities for their children (Christine's parents). Even though family have since moved out of Chinatown, it still remains the place for her family to shop, eat, and expose the younger generation to the history of Cantonese Chinese culture in Canada.

Cassie's connection with Chinatown spans two cities. She grew up in Calgary and spent a lot of time in Chinatown, whether it was eating, shopping, attending summer school as a kid or getting late night eats after the club. Even today, her grandmother resides in Chinatown. She now calls Vancouver home and makes a point of visiting Chinatown to buy dry goods from the local shops. It's also a must stop anytime her family visits.  

What is your background before IKIWISI?
Prior to meeting at Langara, Christine completed a BBA from SFU and Cassie a BSc from the University of Calgary. But it was the two years spent working together on school projects in the Display + Design program that was the perfect incubator for going into business together. After graduating, Christine worked in tech and Cassie in design for a while before both transitioning to IKIWISI full time.

What is the inspiration for this design? Why did you choose it?
We've always taken inspiration from daily life but it was during the pandemic that we took the time to re-examine ourselves and our work. That introspection led to us making space for our cultural perspective, allowing for greater authenticity in our designs.

We wanted to modernize Asian goods and show how fun it can still be, but not necessarily have the cutesy look we grew up with. We also wanted to incorporate the cultural markers that come with being raised in Canada, because that's who we are and it's important to be resonant to so many others just like us.

Can you briefly describe your experience as Chinese-Canadian entrepreneurs?
Every entrepreneurial journey is unique and as Chinese Canadians, we've faced both advantages and disadvantages. One of the advantages is having a captive audience for our goods because we are specifically targeting our community. We can speak to our audience authentically because we share the same experiences. Especially now, with the general Asian Canadian community feeling more emboldened to make space and to celebrate our voices; it's encouraging and empowering to bring forth ideas in that energy.

Unfortunately, despite the strides we're making, we are still at a disadvantage in several ways. Our particular industry is very white and as such, we are probably never going to have the same reach in doing culturally specific work because it's simply not mainstream. Though we've never had anyone turn us away because we're Asian, sometimes we wonder if we would have more doors open if unconscious bias wasn't a thing.

Another big hurdle is overcoming the mentality that we need to conform to white spaces. In the past, we've stop ourselves from pursuing ideas that weren't mainstream or niche because it wasn't a good business move. We didn't even give ourselves a chance to be truly authentic because we are so conditioned to fit in instead of standing out. By discounting our voice and contributions, it simply became a self-fulfilling prophecy. There was a lot of unlearning to do and that's another layer of work on top of everything else it takes to be an entrepreneur. But, we're changing, the world is changing and though we thought making space for our culture was a risk, it has actually brought the best reward.
Now what's next?
The Chinatown Storytelling Centre and I'll Know It When I See It have come together for their first merch collaboration ever: the Cantonese Sayings Tote Bag!
Discover this new, fun and colorful design now available on:
Continue reading