Asian Heritage Month 2023 Feature | Holy Duck Chili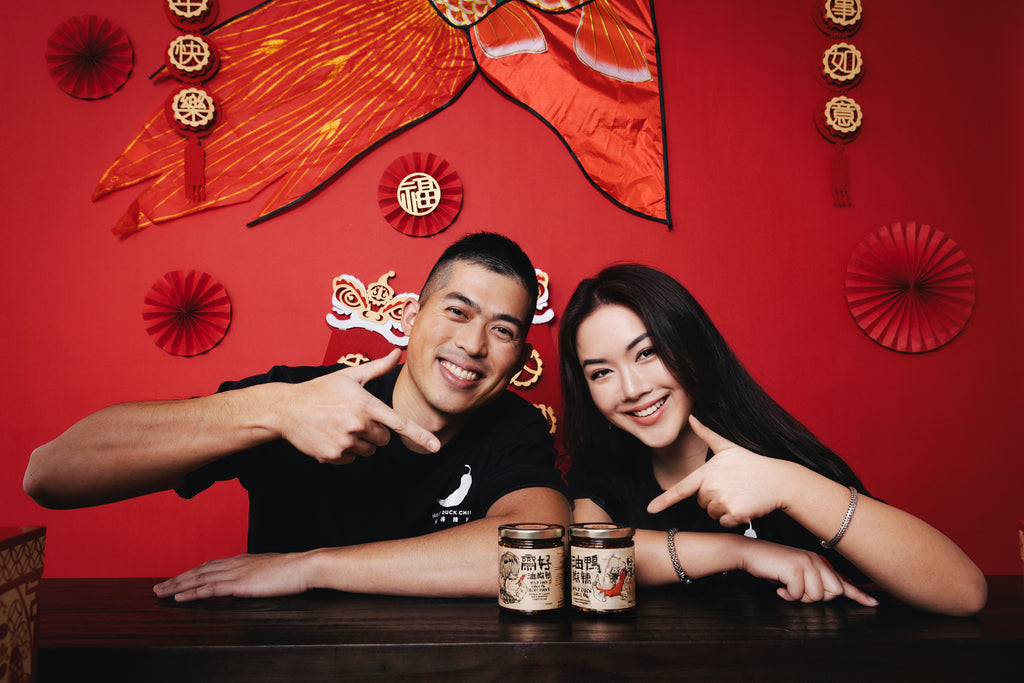 Holy Duck Chili are a husband-and-wife team who moved to Vancouver in 2020, right before the pandemic. As many of us have experienced, the series of events that followed left many of us feeling disconnected. During the Lunar New Year 2021, the pair began experimenting with Louise's grandma's chili oil recipe for their family and friends.
What was your journey leading up to the moment you thought "I should start my own business?"
Our journey to creating Holy Duck began during the pandemic when we re-evaluated our lives
and decided to pursue a passion project together as husband and wife in Canada to share our
love for Asian cuisines with locals. Through food and art, we hope to share with Canadians the
disappearing cultures and to relate with other fellow newcomers our journey becoming Asian
Canadians.
Was it a light bulb going off moment and you and Chris decided to go for it? Or did it take a while before you had the confidence that this would work? What was it like moving from Hong Kong and navigating the process of opening a new business?
We both had a fast-paced corporate life separately in our twenties which didn't allow us time to breathe, let alone spend time in the kitchen together cooking hearty, nutritious home-cooked meals for ourselves. However, going home to have dinner with parents was always a treat-there's something so nurturing about mom's home-cooked meal with the right, traditional,
passed-down-generations culinary technique combined with natural, fresh ingredients bought
on-the-day-of from the wet market. The first year after moving to Canada in February 2020,
homesickness was tough and the pandemic didn't make it any easier.
It was the intense homesickness that drove us to look for ways to recreate the taste of home
and all the authentic Asian flavors in our home kitchen. However, we found that mega-chain
grocery stores were selling colorful cans and packets of sauces, the majority imported from
thousands of miles away from the factories in Asia. Taking a closer look, we discovered that
these factory-made sauces were preserved to make them suitable for commercial needs, and
our gut feeling told us that these sauces, having sat on the shelves for over a year, couldn't be good for our body or the planet.
We didn't want to settle for what's available. We wanted to create something better and we were determined. We went to great lengths to dig out local hidden gems, such as the many
neighborhood general stores and the array of locally handcrafted condiments. We were inspired
by the abundance of small-batch crafted sauces using international recipes in the market to
cater for the immigrant and expat-intensive Vancouver. Still, we saw much room for a wider
variety and more premium quality sauces that are made with sustainability in mind and with
locally sourced ingredients to empower Vancouver locals to recreate the authentic taste of Asia
at home. There is always so much room for new business ideas to thrive in Canada. To us, that
was the moment we saw space in the market for Holy Duck Chili to thrive creatively.

What does it mean to you to be able to share your grandma's chili oil recipe in Canada?
Sharing our grandmother's chili oil recipe in Canada is a particularly rewarding experience for us because we are able to apply the wisdom passed down from our elders in this passion project.
The concepts of sustainability and diversity have been around for a long time, originating from
the tough times our ancestors went through where resources were limited, and creativity was
mandatory in cooking.

When deciding on the recipe of our first product- Holy Duck Chili Oil, duck fat immediately came
to our minds. Duck fat, also known as the olive oil of animal fat, is often discarded and
undereducated about the nutritional value. In fact, we recalled in our childhood, grandmother
used duck fat to whip up aromatic, delicious wok-fried dishes in replacement of peanut oil, which was trending back in the days but very expensive for common households like hers, which was a family of 8.
Fast forward to now, Holy Duck Chili Oil is our creative take on chili oil, using duck fat, which
contains healthy monounsaturated and polyunsaturated fats to help decrease cholesterol and
reduce the risk of cardiovascular disease, as a healthy and diverse alternative cooking oil.
Through education, we believe Holy Duck Chili can improve food diversity by introducing duck
fat to consumers' daily life in Canada.
In fact, our whole family played a significant role in the starting of Holy Duck Chili. For two
decades before retiring, Chris's dad ran a Chinese restaurant and bakery that served
predominantly Chinese but also pan-Asian cuisines. My grandmother, who passed away during
the pandemic, was a chef at Japanese and Chinese kitchens in the 50s during wartime in
China. Through advice from our parents, we discovered the beauty of cooking with local,
seasonal ingredients and the interconnection between Asian cuisines- what makes each
ingredient delicious.

Now what's next?
We debuted the first chili oil product in the summer of 2021, and we plan to
continue bringing the nostalgic taste of pan-Asian delicacies to households in Canada through
our sauce creations and storytelling of our roots in Hong Kong.